Asaramatoru Field
Highlights
The Asaramatoru Field is located onshore in the shallow swamp in the southern part of Oil Mining License (OML) 11 in Nigeria.
It is located 40 km south of the Oza Field, where Decklar has already commenced re-entry drilling activities, and 15 km from the Bonny Oil Export Terminal (largest on the African continent) and Bonny LNG plant.
It is a conventional stacked sands reservoir (10 zones) with proven reserves and delineated exploration upside.
The field was in production as recently as 2018, and has two existing wells on site, as well as some crude processing infrastructure.
Overview
The Asaramatoru Field, operated and owned 51% by Prime Exploration and Production Ltd. ("Prime") and owned 49% by Suffolk Petroleum Ltd. ("Suffolk"), is situated onshore in the southern swamp section of OML 11 in the Eastern Niger Delta area, which is one of the largest onshore oil producing blocks spanning the coastal swampy section in the south to dry land in the north. The Asaramatoru Field is located in mangrove forested terrain and is approximately 45 km S/SE of the oil city of Port Harcourt in Rivers State and approximately 40 km south of the Oza Field. The Bonny Oil Export Terminal and Bonny LNG plant are located approximately 15 km south of the Asaramatoru Field.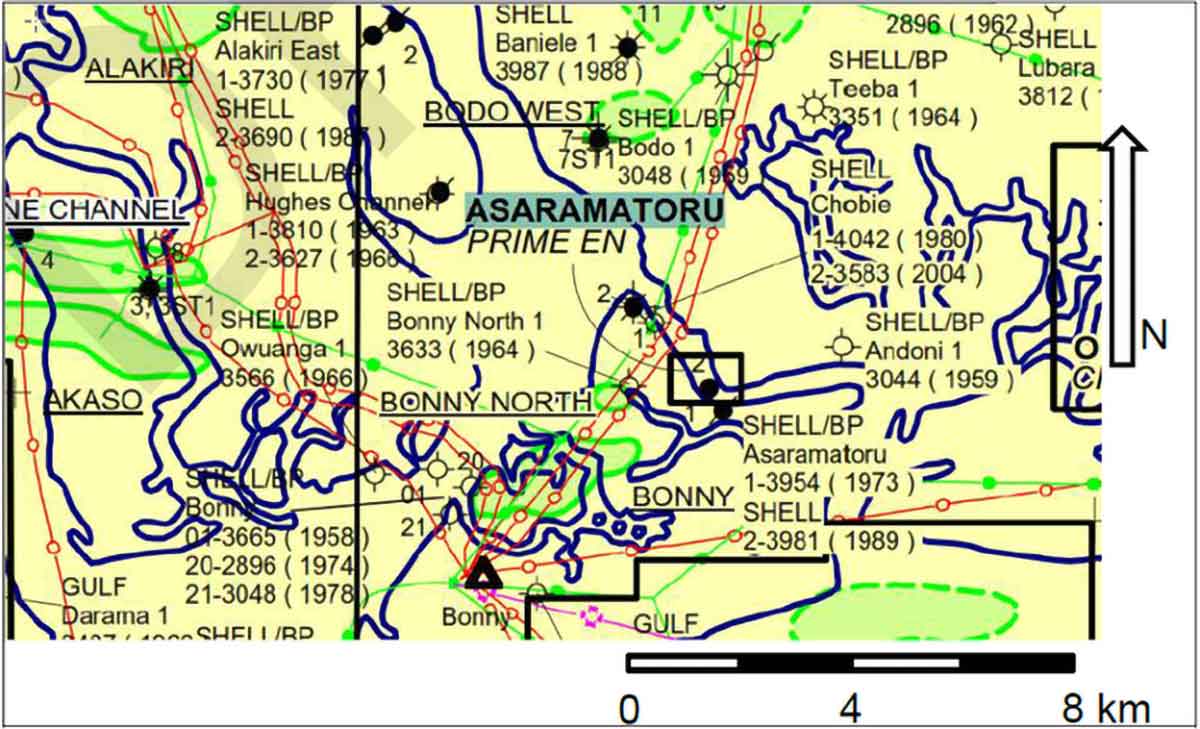 The Asaramatoru Field was formerly operated by Shell Petroleum Development Company of Nigeria Limited ("SPDC"). SPDC discovered the oil field in 1973 with the drilling of the AST-1 well, which discovered 10 hydrocarbon bearing reservoirs. The AST-2 well was drilled by SPDC in 1989 and discovered additional oil reservoirs in a separate fault block. SPDC never placed the two wells on production and suspended both wells after the drilling and completion activities. Data available includes the wireline well logs, additional test data, and a 3D seismic survey conducted in 1996.
Prime and Suffolk re-entered the existing two wells and commenced initial production testing activities in 2014. The wells produced an average of 2,700 barrels of oil per day during intermittent production over three years, with the crude production being barged to an offshore facility for storage and export. The two wells have been shut in since late 2018 due to lower oil prices, logistics connected with barging and export actives, and limited storage facilities at the well locations.
Development Program
Decklar and Prime's next planned stages for development of the Asaramatoru Field will commence with re-entering the two existing wells and recompiling into optimal zones. This will be followed by additional development drilling according to an updated field development program.
The full field development plan will include the expansion of the processing facilities and initiation of production through a barging solution, followed by an optimized evacuation program based on production characteristics and infrastructure availability.
Summary of Risk Finance and Technical Services Agreement
In July 2021, Decklar Resources ("Decklar") entered into a Share Purchase Agreement to acquire all the outstanding shares of the local Nigerian subsidiary Purion Energy Limited ("Purion"). Purion had separately and previously entered into a Risk Finance and Technical Services Agreement ("RFTSA") with Prime Exploration and Production Limited ("Prime") with respect to the 51% equity interest that was awarded to Prime in the Asaramatoru Field to provide technical, financial and operational support needed to develop the Asaramatoru Field. Further, Decklar is aware that Purion is also seeking to enter into a RFTSA with Suffolk Petroleum Ltd. ("Suffolk") with respect to Suffolk's 49% interest in the Asaramatoru Field.
The RFTSA provides Purion with the majority share of production and associated cash flow from the Asaramatoru Field in exchange for funding and technical assistance to restart commercial production and full field development. Under the terms of the RFTSA, Purion is responsible for funding all capital expenditures and is entitled to minimum 85% of distributable funds until all capital investment has been recovered, plus at least 35% uplift to invested funds. After cost recovery is achieved, Purion's share is 30% of net available profit from existing wells, and 40% of net available profit from new wells.